ONLINE COURSE: How To Get Your Mexico Resident Visa
How To Get Your Mexico Resident Visa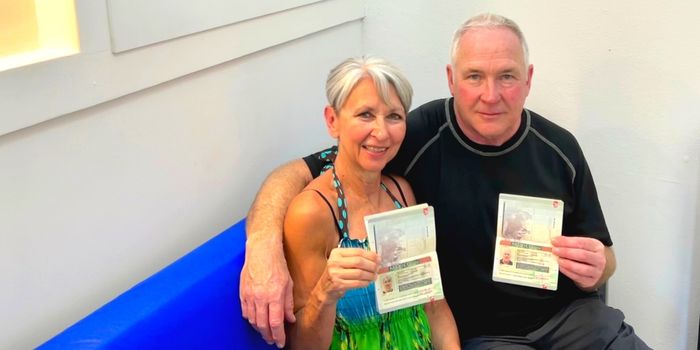 How To Get Your Mexico Resident Visa
Welcome to our Mexico Resident Visa course. Check the syllabus and learn how to get your resident visa fast.
After completing our How To Get Your Mexico Resident Visa Online Course, you literally will know all the possible options you have to become a resident. The you'll be able to decide confidently which way you want to go about getting your residency in Mexico. Also, you get a full refund of what you pay for this course if hire one of our complete services. It's a limited time offer during 2023!
You may purchase the How To Get Your Mexico Resident Visa Online Course for 2 weeks of access or 3 months of access. Our Enhanced Course option includes our expert document review to check if you meet the requirements to get a Mexico resident visa, plus you'll get the info summarized in pdfs that you can keep. With the information in this course, plus our expert review of your documents, you'll understand exactly how to have the best odds of getting your Mexico resident visa, in a lot less time than you might think.
Welcome to our course How To Get Your Mexico Resident Visa. We are experienced immigration professionals helping people just like you live their dream lives in Mexico.
Introduction to the Immigration Process in Mexico
Overview of the Mexico resident visa process


Immigration documents used in Mexico: VISA, FMM and RESIDENCY CARDS



Applying in a third country (neither Mexico nor your home country)
Authentication of Documents
Get the basic knowledge you need regarding using your personal documents abroad. We'll discuss apostilles and legalizations.
Types of Residencies in Mexico and Their Benefits
Comparing Temporary vs Permanent residency: Differences when applying and benefits


The population code (CURP) – How you get it and what is useful for


The tax ID code (RFC) and taxation criteria for residents of Mexico
Healthcare Insurance Options for Residents in Mexico
INSABI: Public system



IMSS





Private insurance options (with real quotation examples)
Booking your consulate appointment


Consular interview


Useful tips on how to behave during the interview
Requirements for Economic Solvency: Employees, Self-employed, Pensioners, Investors, Property owners
We discuss different types of applications based on having sufficient income, bank account balances, or investments to qualify


You will know the types of investments accepted by the Mexican government


Depending if you're an employee, self-employed, a pensioner, an investor, or a property owner (in Mexico), you will get to know the challenges you will face and what's best to bring to your appointment, depending on your situation
Requirements for Family Bond Assumption
You will learn about the options you have if you are the parent or spouse of either a Mexican citizen or a Mexican resident
About Working, Volunteering and Studying in Mexico
Explore the options to work in Mexico: what you should know if you got a legit job offer in Mexico


How to Volunteer in Mexico and get temporary residency at same time


How to continue your studies in Mexico so you can get residency
What If I Don't Qualify Now?
General strategies to apply soon (within a year from today)


Use what you've learned in previous lessons, so you can make your plan to apply as soon as possible
I Got My Visa! What's Next?
Dos and don'ts for traveling to Mexico with your residency visa


New travel procedures when entering Mexico: some advice


How to enter Mexico once you have been granted a residency visa


How to enter Mexico without a residency visa (as a tourist)